3 IN 1 AROMATHERAPY FACIAL STEAMER 5x MAGNIFYING LAMP & HIGH FREQUENCY MACHINE.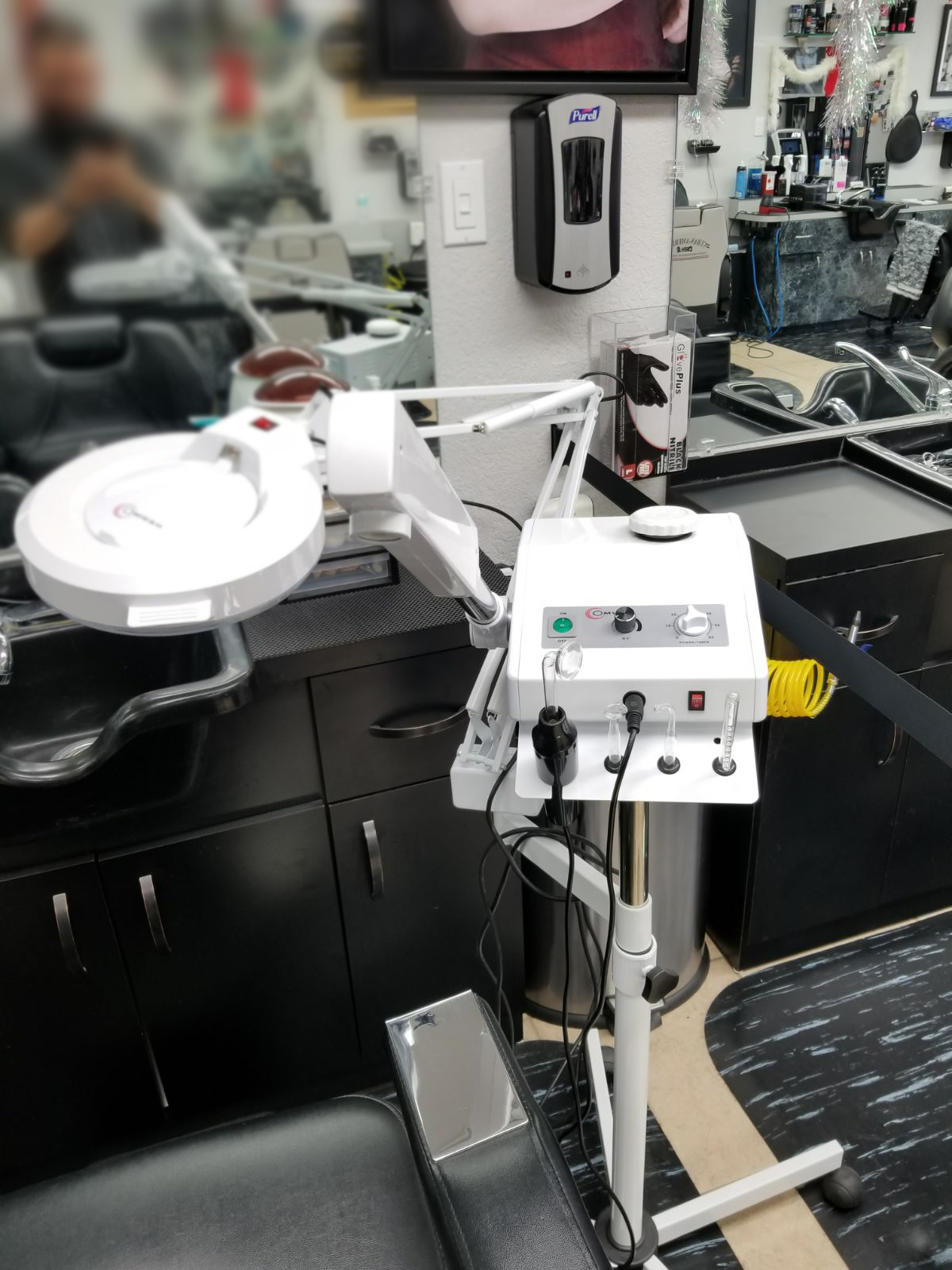 Description

This CE Certified Herbal Aromatherapy Facial Steamer with Purifying Ozone has a fully adjustable arm that moves up and down with pivot motion. The steamer heats distilled water to produce a high pressure steam for delivery to the skin. This helps to open pores and relaxes face muscles to aid in the extraction of impurities.

1. Ozone Function: This steamer comes equipped with ultraviolet ozone capabilities that purifies the steam as it passes through the steamer arm ensuring a clean, safe treatment

2. Herbal Aromatherapy: This steamer comes equipped with an Herbal Basket, so you can add an elegant Aromatherapy service for your clients. 3. Essential Oils: If you prefer essential oils to herbs for aromatherapy, no problem!

Utilize the powerful 5x magnification (16 diopter) to give you pinpoint precision when diagnosing skin treatment needs, or performing extraction of blackheads and acne from the skin.

1. 5x Magnification (16 Diopter): For close up inspection of pores and treatment area
2. 8x High-Magnification Loupe: Built-in Loupe in the magnifying lens for extreme close-up inspections
3. Soft-Cool Fluorescent Bulb: So, you won't overheat and dehydrate your client's skin

This handheld ozone high frequency facial machine is professional grade and comes fully integrated into the steamer base unit. with a front-facing storage rack for easy access.

4. Glass Electrodes Violet Argon Gas Glass Electrodes include:

1. Mushroom Electrode for broad treatment areas such as the forehead
2. Spoon Electrode for targeted sensitive areas such as dark circles/bags beneath eyes
3. Sparker (Zapper) Electrode for precise sparking and sterilization of pimples
4. Rake/Comb Electrode to stimulate scalp circulation to encourage hair growth.


5 IN 1 FUNCTIONAL DIAMOND DERMABRASION.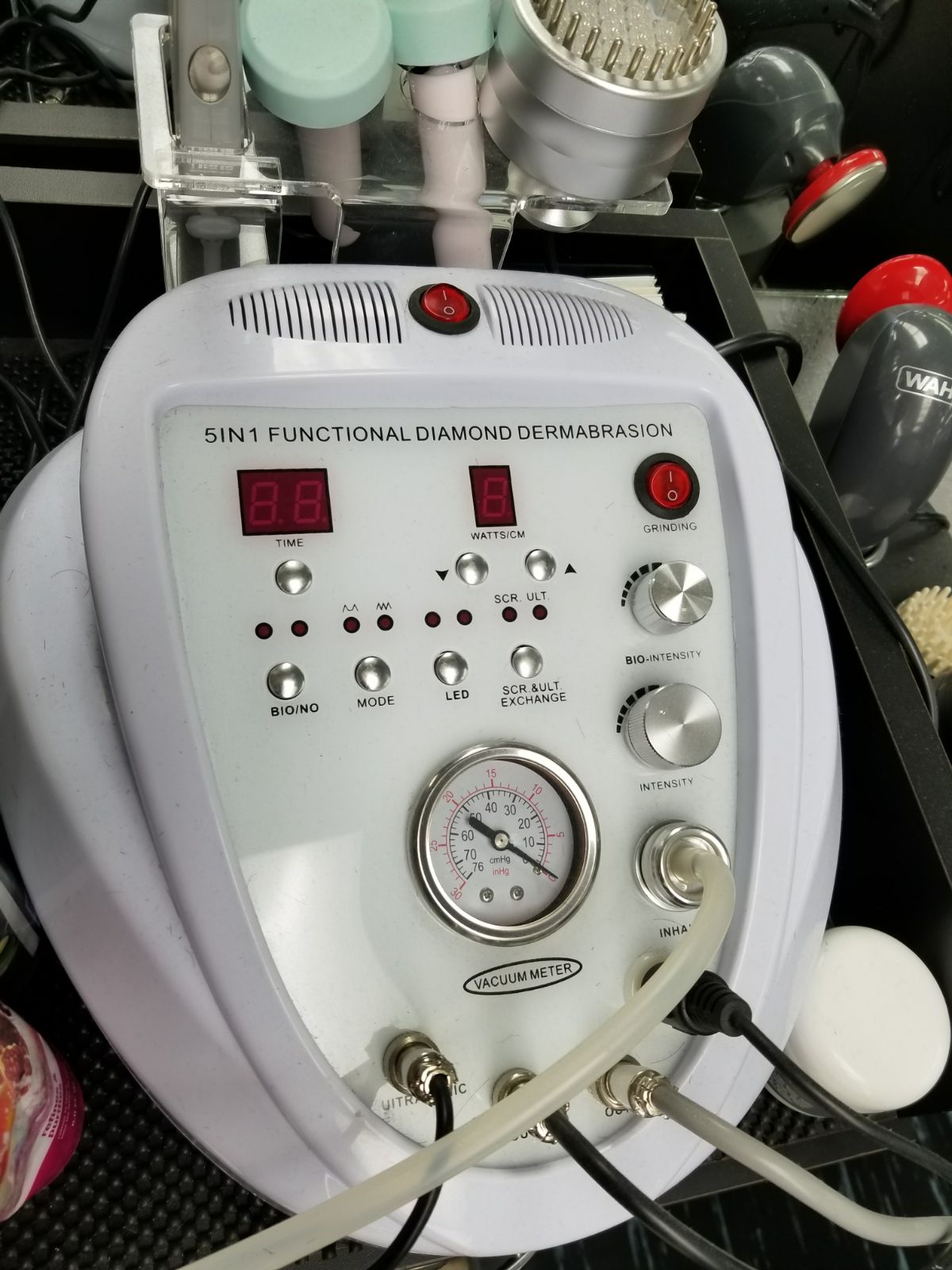 Description:

This dermabrasion machine provides a non-surgical skin refinish procedure, by using sterile diamond heads to abrade or rub off the top skin layer, then vacuuming out the particles along with any dirt and dead skin back up. This procedure removes skin debris, imperfections, blemishes, wrinkles and unwanted pigmentation on the skin. Moderate usage of dermabrasion, accompany with skin products that penetrate through top skin layer that reach the dermis level, helps to replenish natural nutrients, restore cell activity, and promote skin health. The results after micro dermabrasion treatment is usually a healthy, glowing, beautiful skin.

Features:

Can assist with diminished signs of aging or scarring Diamond dermabrasion technology Using this machine can result in vibrant, healthy, beautiful, and glowing skin No downtime for recovery Can be used for; removing pimples, skin firming, removing acne, lightening spots, preventing wrinkles, cuticle removing, excellent cleansing effect, extremely high absorption of nourishment, awesome ability to maintain clear and pure skin, and etc.